Convention Center Hotel Sheraton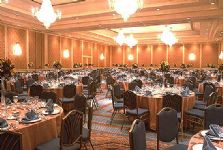 A modern convention center is directly linked to the hotel. It has 10 splendid rooms, elegantly decorated with a maximum total capacity of 2,000 people. There is direct access to all of them from Josefina Edwards Street on one of the hotel's sides and to the hotel's 350-car underground parking lot.
We also offer outside service suppliers such as simultaneous translators, audio amplifying systems and the latest in audiovisual systems.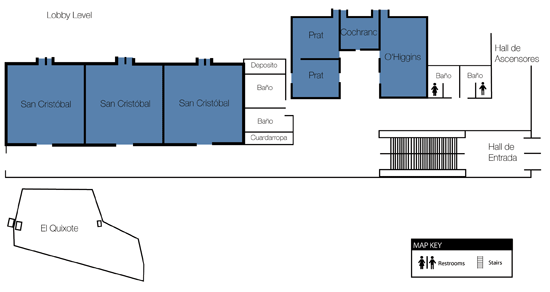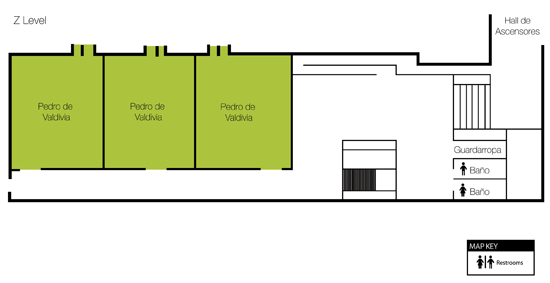 San Cristóbal Room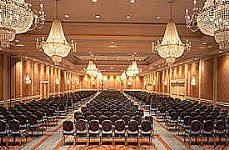 Located at the lobby level of the hotel, San Cristobal Room has 704 meters of infrastructure which may be divided en three separate rooms, each of them with a minimum capacity of 300 people. It is the ideal place for large conventions, international meeting, avant premieres, weddings or any other event which needs to hold large numbers of attendants.
It boasts the latest in sound-system technology and amplifying systems, as well as outstanding lighting facilities and projection systems.
Pedro de Valdivia Room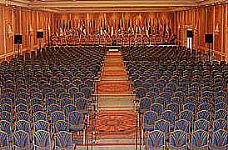 Within its 524 square meters different types of events have taken place, ranging from banquets to international meetings, symposiums and conferences.
Its large size enables its division in three independent rooms with a minimum capacity of 250 people or may be enlarged to its maximum capacity of up to 800 people.
Located on level "Z" of the Convention Center, Pedro de Valdivia Room is completely independent of the other rooms, its 360 square meters of Foyer enable a comfortable and quick access to it, preventing crowds from having difficulty entering and exiting the room.
Board Rooms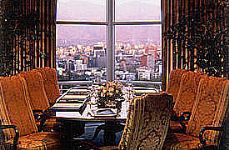 Sheraton Santiago Hotel & Convention Center puts 4 board rooms at your disposal. These rooms boast the most modern technology in order to make your private meetings a complete success.
Every one of our Executive Board Rooms has a 21 inch color TV, a vcr, a 2.10 meter by 2.10 meter automatic curtain, muzak and telephone with two digital lines, hands-free and conference, fax service, video conference, internet, secretarial services, black and white /color photocopying machines, transparencies and every other item you may need will be available to you upon request.
Our Executive Board Rooms also include banquet services during meetings.
Home › Hotels › Sheraton Hotel › Convention Center