Hotel Portillo
Portillo, Portillo Ski Center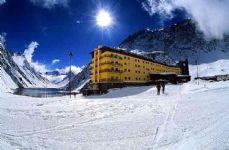 Few ski resort hotels boast a more magnificent view than this hotel. Located on the edge of Inca Lake and surrounded by the towering, rugged Andes, the bright yellow hotel offers rooms facing the lake or valley. In addition, there are 2 lodges annexes and 8 chalets, which provide an alternative to the traditional hotel room. The main hotel is completely self-contained with the full spectrum of resort services, thus no car is needed as your room is only an elevator ride away from the ski slopes, the dining room and all facilities.
Room Choices and Views
Portillo offers to its guests Singles, Doubles, Family Rooms, and Suites with either lake or valley views in the main hotel. The valley side features a beautiful view of Andean peaks, however, the lake view - which features a view of Lake Inca, the Three Brothers peaks and the ski runs - is truly breathtaking and well worth the premium price. Rooms have telephones and safes, and all have private bathrooms with a shower and tub. They do not have TVs so that guests will make full use of all our wonderful sports, SPA and entertainment facilities. TV is available during some hours in the cinema and disco. To see Portillo Hotel rooms, click here.
Portillo Hotel Amenities

| | | |
| --- | --- | --- |
| Heated Outdoor Pool | World-Class Ski School | Fine Dining Room |
| Fitness Center | Free Timed Race Courses | Cafeteria |
| Aerobics & Yoga | Ski Tuning and Repair | On-Slope Restaurant |
| Sauna / Massage | Ski and Boot Valet | Retail Store |
| Beauty Salon | Performance Rentals | Free Daycare Center/Nursery |
| Full-Court Gymnasium | Skating Rink (weather permitting) | Medical Clinic |
| Electronic Games | Sports Tournaments | Cybercafé |
| Pool, Ping-Pong Room | Torchlight Parade | Children's Activities |
| Discotheque | Weekly Guest Race | Living Room Socials |
| Bar with Live Music | Guest Library | Welcome Cocktail Party |
| Cinema | Ski Talks | TV shown in Cinema and Disco |
Check-In and Check-Out
Arriving guests will receive their rooms by 2:00 pm. Check-out is before 11:00 am. If guests check out before 10am, they will receive an 8th day of skiing FREE!.
Miscellaneous Hotel Information
Tours of the hotel and its facilities are made every Saturday night. We recommend these tours to first-time visitors so that they learn of the many things there are to do in Portillo
Tap water in Portillo is not only potable, it is delicious and pure.
Portillo's rooms do not have television; however television may be seen at certain hours in the cinema or the disco. This is intended to encourage guests to enjoy the many services, entertainment and activities available, and to get to know the other guests.
Portillo asks that all guests wear nice clothing and shoes to the dining room for the evening meal. Ski clothes are fine at breakfast and lunch. Guests who enjoy getting dressed more elegantly for dinner are welcomed and encouraged to do so.
Portillo (and all of Chile) uses 220-volt electricity, so guests might need to bring transformers.
Internet access is available for an additional charge through wireless service in the rooms or our Portillo Cyber café.
Portillo offers SkiWeeks. These are all-inclusive, Saturday to Saturday stays.
All SkiWeeks includes:

Seven nights lodging
Seven days unlimited ski lift access (8 days if guest returns room by 10am on the 8th day)
Four meals per day (breakfast, lunch, tea and dinner)
Complementary use of pool, Jacuzzi, fitness center, gymnasium, aerobics and yoga classes, cinema, game room, children's activities, daycare center (3 to 7 years old), disco, piano bar, ski check, boot check and timed race courses.
Day care for children ages 3 to 7 is at no cost to parents. Daycare for children ages 0-2 is an additional cost.

(*) Price per Chalet for 4 occupants. The 5th and 6th occupant will be charged the extra bed Price.

(**) Price per Chatet for 6 occupants. The 7th and 8th occupant will be charged the extra bed price.

Check-in and Check-out:

Arriving guests will receive their rooms by 2:00 pm. Check-out is before 11:00 am. If guests check out before 10am, they will receive an 8th day of skiing FREE!.
Home › Ski Resorts › Portillo › Portillo Hotel