Restaurants and Pubs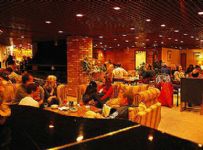 After basking in the beauty of the mountain landscapes, we invite you to indulge in the culinary arts with a selection of the finest specialties. In Valle Nevado you will find different restaurants offering a wide variety of flavors, aromas and styles on their menus which may be sampled anytime of the day.
Restaurants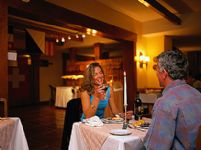 La Fourchette

La Fourchette was totally remodeled in 2010, and is the resort's most elegant and chic restaurant, serving gourmet Mediterranean cuisine and premium wines. Renowned for its stunning views, you won't soon forget this remarkable dining experience.

Sur Restaurant

Located in the Hotel Tres Puntas, this restaurant serves delicious international cuisine a la carte, in an attractive, comfortable ambiance surrounded by large picture windows.

Mirador del Plomo (Puerta del Sol Hotel)

Located in the Hotel Puerta del Sol, this restaurant features international cuisine served buffet-style. Chefs can also prepare grilled meats and pasta to order. The restaurant has been completely remodeled to give our guests a comfortable and quality dining experience that is also fun for all ages.

Don Giovanni

The popular Don Giovanni is located next to the Bar Lounge, and serves delicious meals that include set lunch menus and a variety of pastas and grilled meats in the evening

Slalom

Is a restaurant for the youngest visitors and skiers that need energy before get to ski tracks. It offers delicious sandwiches and fast food

Bajo Cero

Valle Nevado's on-slope restaurant serves hearty sandwiches, burgers and BBQ food, with indoor and outdoor seating. There's no place like sitting under the sun on Bajo Zero's deck, soaking up the sweeping views.
Additionally, Valle Nevado ski resort has many relaxing spaces , to have a drink with friends, recreation activities, gym or just places to enjoy the wonderful landscape of Los Andes Mountain
Lounge bar
Located in Valle Nevado hotel, this bar offers the best drinks and snacks in a cozy place, counting with a fireplace to relax and share with friends
Puerta del Sol Bar
Is a familiar place, with exquisite cold and hot drinks for children and adults, located in Puerta del Sol hotel
Tres Puntas Pub
This bar offers karaoke and dance, live music and billiard tables to have fun and make new friends.
Valle Nevado Store
Here the visitors will find the best ski clothes or casual dressing and souvenirs from their stay in this wonderful ski resort.
Tempered Swimming Pool
A swimming pool with exquisite hot water in the middle of the cold mountain and snow, which also has a wonderful view to the landscape and surroundings.
Fitness Center and Spa
Valle Nevado ski resort counts with a full equipped gym which offers yoga, aerobics and dance lessons. Here the visitors can also relax with massages and sauna after they workout
Home › Ski Resorts › Valle Nevado › Restaurants & Pubs